Back To Menu
Taco Salad
Served in a fresh, crispy flour tortilla shell bowl. stacked with choice of black beans or refried, lettuce, pork con Chile verde, beef con Chile Colorado, ground beef, chicken. Topped with cheese blend, tomatoes, and sour cream
Add Guacamole
+$2
Add Fajita Topping
+$3
Choice of Beans (Select 1):
Black Beans
Refried
Taco Salad/Tostada Protein (Select 1):
Pork con Chile Verde
Beef con Chile Colorado
Ground Beef
Chicken
Taco Salad Addition(s) (Optional):
Guacamole
+$2
Fajita Topping
+$3
Have you tried this item? Pop it!
Help other diners know what to expect by sharing your experience.
Photo Gallery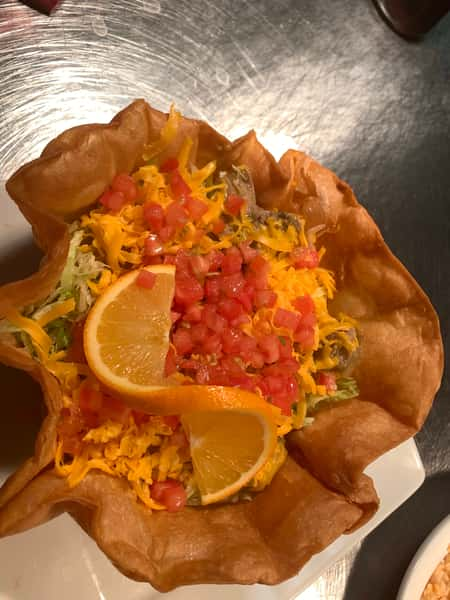 Back To Menu
Taco Salad
Served in a fresh, crispy flour tortilla shell bowl. stacked with choice of black beans or refried, lettuce, pork con Chile verde, beef con Chile Colorado, ground beef, chicken. Topped with cheese blend, tomatoes, and sour cream
Add Guacamole
+$2
Add Fajita Topping
+$3
Choice of Beans (Select 1):
Black Beans
Refried
Taco Salad/Tostada Protein (Select 1):
Pork con Chile Verde
Beef con Chile Colorado
Ground Beef
Chicken
Taco Salad Addition(s) (Optional):
Guacamole
+$2
Fajita Topping
+$3
Back To Menu